Solar Eclipse Conference 2018 (SEC 2018)
Tenerife, Canary Islands, Spain
A Crossroad on Physics & Eclipses of the Sun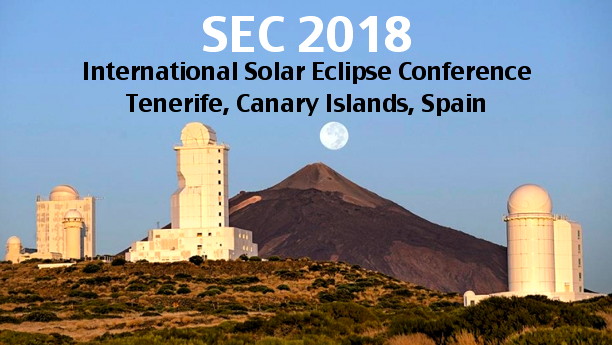 The Solar Eclipse Mailing List (SEML) and before the Solar Eclipse Newsletter (SENL) had been successful as a vehicle in bringing together solar eclipse enthusiasts, professionals and amateurs alike. The Solar Eclipse Conference in Antwerp (SEC 2000), October 2000, was an extension of the electronic contacts and was for sure a success. In two days over 35 lectures had been presented to 155 participants from 22 different countries. The Solar Eclipse Conference is repeated at non-central eclipse years. The international Solar Eclipse Conference of 2004 (SEC 2004) was held in August 2004 at the Open University of Milton Keynes, England. SEC 2004 had 115 delegates out of 20 different countries.
The international Solar Eclipse Conference (SEC 2007) was held at the renovated Griffith Observatory in Los Angeles, USA. The program started Friday 24 August 2007 evening and ended Sunday 26 August 2007 afternoon. As icing on the cake, we had the opportunity to watch a total lunar eclipse on August 28 : visible in its entirety only from the western USA, New Zealand or eastern Australia and the Pacific Ocean.
The first three SECs were organized by Patrick & Joanne Poitevin, but at the end of SEC 2007 Patrick announced he would drop the ball.
The fourth international Solar Eclipse Conference (SEC 2011), was organized by SPACE, and held from 2011 December 15th to 17th in New Delhi, India.
In 2013, Patrick Poitevin decided to pick-up the ball again and organized the SEC 2014 in Cloudcroft and Alamogordo, New Mexico, USA. During the closing session, Patrick announced the next conference, SEC 2018, would be held in Tenerife, Canary Islands, Spain.

[Update]
In January 2017, due to unexpected events, Patrick announced that he had to pull out of organizing the next SEC although the venue and dates were secured. Hamid Khodashenas was willing to take over the organisation and host the upcoming SEC in Shiraz, Iran. However because of the current geopolitics and the far too many uncertainties in the foreseeable future it is becoming difficult to support such an initiative although visiting Iran was enticing for many. So we are now left with two main options: first maintain SEC 2018 in either Tenerife or La Palma, both in the Canary Islands, in cooperation with another organizer, or else go with Thomas Goodey's provisional proposal to organize it in Suceava, Romania. Both options would ensure that the coming SEC stays accessible and affordable to worldwide participants.
We hope to have more news around mid-November 2017.


Project Background

3rd International Solar Eclipse Conference
at Griffith Observatory in Los Angeles, USA
(25 August 2007 Xavier Jubier lecture)

4th International Solar Eclipse Conference
at Rama Krishna auditorium in New Delhi, India
(16 December 2011 Xavier Jubier lecture)
Over the last few decades, there have been dramatic changes in solar eclipse traveling. Solar Eclipse specialists meet most of the time in the shadow of the Moon. Solar Eclipse meetings out of totality are rare, or are mainly focused on solar physics. The Solar Eclipse Mailing List and before the Solar Eclipse Newsletter has been successful as a vehicle in bringing together solar eclipse enthusiast, professionals and amateurs alike. Because there was no central eclipse in 2000 we had been presented with a perfect opportunity for an International Solar Eclipse Conference.

We have had this project in mind for some time, but mainly due to planning eclipse travels it has been put on hold. The aim of the conferences is to bring together professionals and amateurs, addicts, enthusiasts, and chasers, as with the mailing list and the newsletter, sharing information, knowledge, and experience. For the same reason we organized an international Solar Eclipse Conference in 2004 and 2007.

After five international Solar Eclipse Conferences (SEC 2000, SEC 2004, SEC 2007, SEC 2011 and SEC 2014), we feel that still not all topics and subjects, related to solar eclipses have been presented and discussed. SEC 2018 will be the next opportunity to meet and discuss.

Two days of lectures, July 28th and 29th, will be given in Tenerife in each of the disciplines : predictions, mathematics, solar physics, weather forecasting, eye safety, diameter measuring, edge and central, and ancient eclipse research. Of course the latest (2015, 2016 and 2017) and forthcoming solar eclipses (2019, 2020 and 2021) should be great topics of discussion. More later…
Tenerife is the largest and most populous island of the seven Canary Islands, located west of Morocco, Africa in the Atlantic Ocean. Tenerife also has the highest elevation of Spain, a World Heritage Site that is the third largest volcano in the world from its base, El Teide. San Cristóbal de La Laguna, a World Heritage Site, is the second city of the island and the third one of the archipelago. Also located on the island is the Macizo de Anaga Biosphere Reserve. The Teide Astronomical Observatory is located at the bottom of the Teide. The island's capital, Santa Cruz de Tenerife, contains the architectural symbol of the Canary Islands, the modern Auditorio de Tenerife. About five million tourists visit Tenerife each year, the most of any of the Canary Islands. Tenerife is served by two airports, Tenerife North Airport and Tenerife South Airport, and is the tourism and economic centre of the archipelago.
Tours for spouses or partners and non-delegates may be arranged during the conferences, as well as tours for delegates after the conference.

A two-day pre-conference option with practical presentations and sessions on solar observing and imaging, total lunar eclipse observations will also be organized. Due to space limitations the optional pre-conference will only be available to a limited number of people.
Speakers
A number of international guest speakers will be invited to give a lecture on their own specialized subject.


Location

The Teide Observatory is located 30 miles (50 kilometers) southwest of Santa Cruz de Tenerife.

Mailing Address :
Observatorio del Teide (Tenerife)
Instituto de Astrofísica de Canarias
C/ Vía Láctea, s/n
38200 La Laguna (Tenerife) Spain

Contact numbers :
Offices +34 922 329 110
Lat = 28° 18.1′ N; Long = 16° 30.6′ W
Elevation = 7,840 ft or 2,390 m



Registration
Sponsoring
Be a Diamond, Gold, Silver or Bronze Sponsor. If you wish to sponsor the conference, please contact us.


Total Lunar Eclipse
On July 27th a total lunar eclipse will be visible from the Canary Islands. The weather prospect are quite good at that time of the year.


Links
Canary Astrophysics Institute
---
---

Guest Book
Xavier M. Jubier
---
---
---
---
---
---